I have been shooting some video lately and since I do things on a small scale I needed a way to not only mount my compact camera, but also quickly and easily move and orient it so I can get the right shot.
After many hours watching Adam Booth AKA Abom79 I realized that, like many machinists, they use a Noga test indicator arm when machining on a lathe or what-have-you. These arms have three pivot points that are controlled by a central knob in the the center of the two arms. At the furthers ends of the arms are two ball sockets. When you tighten the knob in the center the entire arm becomes rigid. This allows you to precisely position and orient whatever is attached to the arm. The bottom of the arm often has a magnetic base that you attach to your lathe, etc. Here's a picture: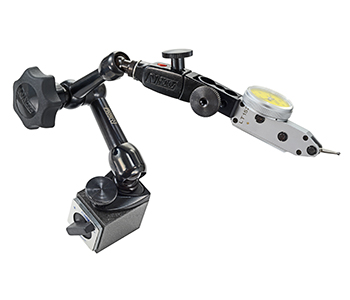 Right around the time the light bulb was going off in my head, Abom put out a video:
Noga Engineering is a terrific and well-trusted engineering company, but their products are out of my price range. Obviously, many people before me realized that their arms could be used for camera and accessory holding, so they have a series made for that called HoldIt. If I was doing something professionally I would get the higher end products.
However, I'm just a casual user and don't need something mission critical and so I looked at alternatives. There are many.
You can never tell with these products who actually makes them, but I've had good experience with Neewer – they seem to pick decent products for the price. They may, for all I know, be the original manufacturer of the product that everyone else copies and sells on Amazon at this price point.
Before selecting Neewer, I had about a dozen different arms in my cart while deciding which to purchase, even a Noga Cine Arm.
After hemming and hawing for what seemed days I bit the bullet and bought this one:
Neewer 30cm/11.8inch Aluminum Alloy Articulating Magic Arm with 15mm Rod Clamp for Mounting LED light, Monitor, Flash to DSLR Camera or DSLR Movie Rig
FIFTEEN DOLLARS USD? Fifteen?
Honestly, I thought it was going to be garbage, but I looked at hundreds of them and as I said before, I've been impressed with Neewer stuff for the price.
I already had a "z head" that I had been using (actually, it was the limitations of the z head that made me want to get an arm) and I figured it was heavy enough to act as a base. Since the Magic Arm can connect to 1/4″ and 3/8″ inch standard threads this was a no brainer.
The one I have is a MAGNUS ZH-3, but there are plenty on Amazon, so search "z head" on there. There is a Neewer one, of course (they all look identical to me): Neewer Z Flex Tilt Ball Head with Quick Shoe QR Plate Bracket for Camera Aluminium Alloy with Bubble Level for Canon Nikon Sony Camcorder Tripod Guide Slide
Here's a pic of it assembled and on the base:
Here it is disassembled. Note that I misplaced the one clamp.
Here are my observations:
All of the surfaces, including the balls, are smooth. The only plastic is the tightening knob. I was quite impressed with the quality, actually.
Clamping surfaces appear to be hardened steel – great.
When loose, everything moves very freely without binding – great (see below, though). I can set it exactly where I need it to. Note that the main joint is splined, but it is fine enough to set the exact position you want. Make sure that the splines are locked into their respective grooves when tightening.
When moving it around, unscrew more than you think so you don't grind the splines together.
Keeping position. The knob has a small thrust bearing between it and the clamping heads. Terrific! For the price I really didn't expect to find a detail like that.
I tighten until slightly snug, then it's about just past a half turn to lock it down. I think if you need more than that your equipment is too heavy. This is a fifteen dollar part that isn't designed for heavy loads.
The joints are oiled surfaces – beware of handling lenses, open camera sensors, etc.
Overall, I had no reservations.